As an Amazon Associate, we earn from qualifying purchases - a small commission at no extra cost to you. We greatly appreciate your support!
Are you curious about what a 24mm lens can do for your photography?
From capturing beautiful wide-angle shots to avoiding common mistakes, this article will provide you with all the information about this versatile piece of equipment.
Let's get right into it!
What Is a 24mm Lens
A 24mm lens is a wide-angle prime lens with a 24mm focal length. It is typically used to capture wide-angle shots of landscapes, architecture, and large groups of people.
24mm is one of the most versatile and sought-after focal lengths in the wide-angle range – just wide enough to capture ultra-wide-angle photography. As a result, most camera manufacturers have them in their product lineup.
Here's a table of the most popular 24mm lenses:
| Model | Canon EF 24mm f/1.4L II USM | Canon RF 24mm f/1.8 Macro IS STM | Nikon AF-S NIKKOR 24mm f/1.8G ED | Nikon NIKKOR Z 24mm f/1.8 S | Sony FE 24mm f/1.4 GM | Sigma 24mm f/1.4 DG HSM Art |
| --- | --- | --- | --- | --- | --- | --- |
| Angle of View | 84° | 84° | 84° | 84° | 84° | 84° |
| Filter Size | 77 mm (Front) | 52 mm (Front) | 72 mm (Front) | 72 mm (Front) | 67 mm (Front) | 77 mm (Front) |
| Minimum Focus Distance | 9.84″ / 25 cm | 5.5″ / 14 cm | 9.06″ / 23 cm | 9.84″ / 25 cm | 9.45″ / 24 cm | 9.84″ / 25 cm |
| Maximum Magnification | 0.17x | 0.5x | 0.2x | 0.15x | 0.17x | 0.19x |
| Diaphragm Blades | 8 | 9 | 7 | 9 | 11 | 9 |
| Focus Type | Autofocus | Autofocus | Autofocus | Autofocus | Autofocus | Autofocus |
| Aspherical Element | 2 | 1 | 2 | 4 | 2 | 2 |
| Weather Sealing | Yes | No | Rear Weather-Sealing Gasket | No | Yes | No |
| Dimensions (ø x L) | 3.29 x 3.42″ / 83.5 x 86.9 mm | 2.9 x 2.5″ / 74.4 x 63.1 mm | 3.05 x 3.27″ / 77.5 x 83 mm | 3.07 x 3.8″ / 78 x 96.5?mm | 2.97 x 3.64″ / 75.4 x 92.4 mm | 3.35 x 3.55″ / 85 x 90.2 mm |
| Weight | 1.43 lb / 650 g | 9.5 oz / 270 g | 12.52 oz / 355 g | 15.87 oz / 450?g | 15.7 oz / 445 g | 1.46 lb / 665 g |
A 24mm lens gives you about an 84° angle of view horizontally, meaning you can capture a scene from turning your head 42 degrees to the left to 42 degrees to the right – making it an ideal starting point for any wide-angle photography project.
What Photography Genres Is a 24mm Lens Good for?
24mm lens can be handy, but it's not a one-size-fits-all solution.
For instance, trying to take a portrait of a friend from far away with a 24mm lens will get you nothing but a speck of a person.
On the other hand, you can use 24mm lenses to capture vast expanses in a single shot.
For instance, you could photograph a stunning beach scene with crashing waves and dramatic cliffs in the background. Or you could photograph a lively festival and include a variety of people, attractions, and activities in the photo.
Here are a few genres where 24mm lenses are helpful:
Landscape photography
Architectural photography
Real-estate photography
Street photography
Astrophotography
Cityscape photography
Event photography
Here are some genres where you may want to think twice before investing your time and energy:
Sports photography
Wildlife photography
Bird photography
Product photography
Portrait photography
Of course, you don't have to stick to this guide exactly – it's just meant to provide a useful starting point. So, if you're a beginner, use it as a reference to help you learn and get better results!
3 Reasons to Use a 24mm Lens
Wide Perspective with Less Exaggeration
A 24mm lens is the perfect middle ground between ultra-wide and standard wide-angle lenses.
Its wide-angle field of view allows you to capture all the incredible detail in the environment without entering the ultra-wide territory. This makes it great for capturing all the interesting elements in your frame in one go.
For landscapes, a 24mm lens is an incredibly versatile choice for capturing stunning views of majestic forests or sprawling deserts.
24mm allows you to control the composition of your shot and still get a fantastic view of the horizon.
So if vibrant sunsets or dramatic cliffs are what you're looking for, 24mm could be the perfect fit.
For environmental portraits, a 24mm lens is ideal for capturing your subject in their larger context, providing a story of who they are and what they are doing, and creating more depth than just a standard headshot.
It's also instrumental in those tight spots where space limitations don't permit you to use a longer focal length. This can be common in restricted places such as churches, indoor venues, or even portrait studios!
In addition, a 24mm lens provides a natural feel to photos that captivates the viewer while avoiding too much exaggeration.
Its 'rectilinear' properties ensure minimal distortion, and modern lenses even have the technology to reduce it further. A quick edit in your favorite photo editing app will fix any remaining distortion quickly. This is great for landscape and wedding photographers, portrait photographers, photojournalists, and street photographers.
Plus, you can also get creative with the bit of distortion it offers. You can emphasize or exaggerate scale, add additional framing, or lead with lines.
All in all, distortion can be used tastefully and carefully to your advantage.
Excellent Performance in Low-Light Conditions
Most 24mm lenses feature an impressive maximum aperture of f/1.4, letting in three to four times more light than a regular kit lens. This allows you to take crystal clear shots even in the dimmest conditions, making it an ideal choice for astrophotography.
Another benefit of this lens is its wide field of view and fast shutter speed, which can help avoid star trails when capturing sky images like the Milky Way or meteor showers.
Exceptional Sharpness
24mm prime lenses are excellent choices for photographers looking to produce high-quality images.
Their fewer moving parts minimize light diffraction, and professional-grade lenses feature the highest quality lens elements available.
These lenses also boast at least two aspherical elements that allow optical designers to correct aberrations with fewer elements than traditional spherical optics, enabling them to achieve greater correction using more irregular surfaces.
Plus, extra-low dispersion glass is used in the lens design to minimize chromatic aberration.
This type of glass helps multi-element objective lenses more effectively direct the wavelengths of light, creating a sharper and brighter image. By controlling aberrations, particularly chromatic aberration, an image can be made as clean and bright as possible.
Mistakes to Avoid When Using a 24mm Lens
Including Everything
24mm lenses are great at including a range of elements in the frame.
But a photo with too many disorganized elements can make understanding the message difficult for your viewers.
A landscape, for example, maybe just an expanse of sand dunes that stretch endlessly into the horizon;
or, it may be a bustling cityscape filled with towering buildings and winding roads.
The first scene, of course, is less complex than the second.
As a scene increases in complexity, it becomes increasingly more challenging to create compelling compositions.
Even experienced photographers may find it challenging to capture an urban jungle; they might even limit their task to featuring only the details of a single building.
Your goal is to include elements in your photograph that add meaning and purpose.
Evaluate the lighting: does it bring out the beauty of the scene, or detract from it?
Examine the subject: what story is it telling?
If each part of the image contributes something unique to the overall composition, you have created a memorable photograph.
Leaving Frame Areas Unfilled
Composition in photography is all about balance. Leaving significant parts of the composition visually empty will make your image unbalanced.
Take a look at the image below to get a better understanding of what I'm saying.
The top of the image is breathtaking. The cloud layers are incredibly vibrant and colorful, ranging from pink to golden hues that draw your gaze to the horizon.
But the lower part of the image offers nothing as captivating; the lake lacks any exciting elements, and the reflections of the clouds on its surface are lackluster and blurry.
Even when the reflection is crystal clear, the symmetrical composition of the sky and clouds can still feel a bit lackluster. But with the right amount of creativity, this beautiful scene can be given life and become truly captivating.
In the picture above, the small boat in the middle left may be easy to miss – but what if we feature it prominently in the image?
Let's take a look at the second image.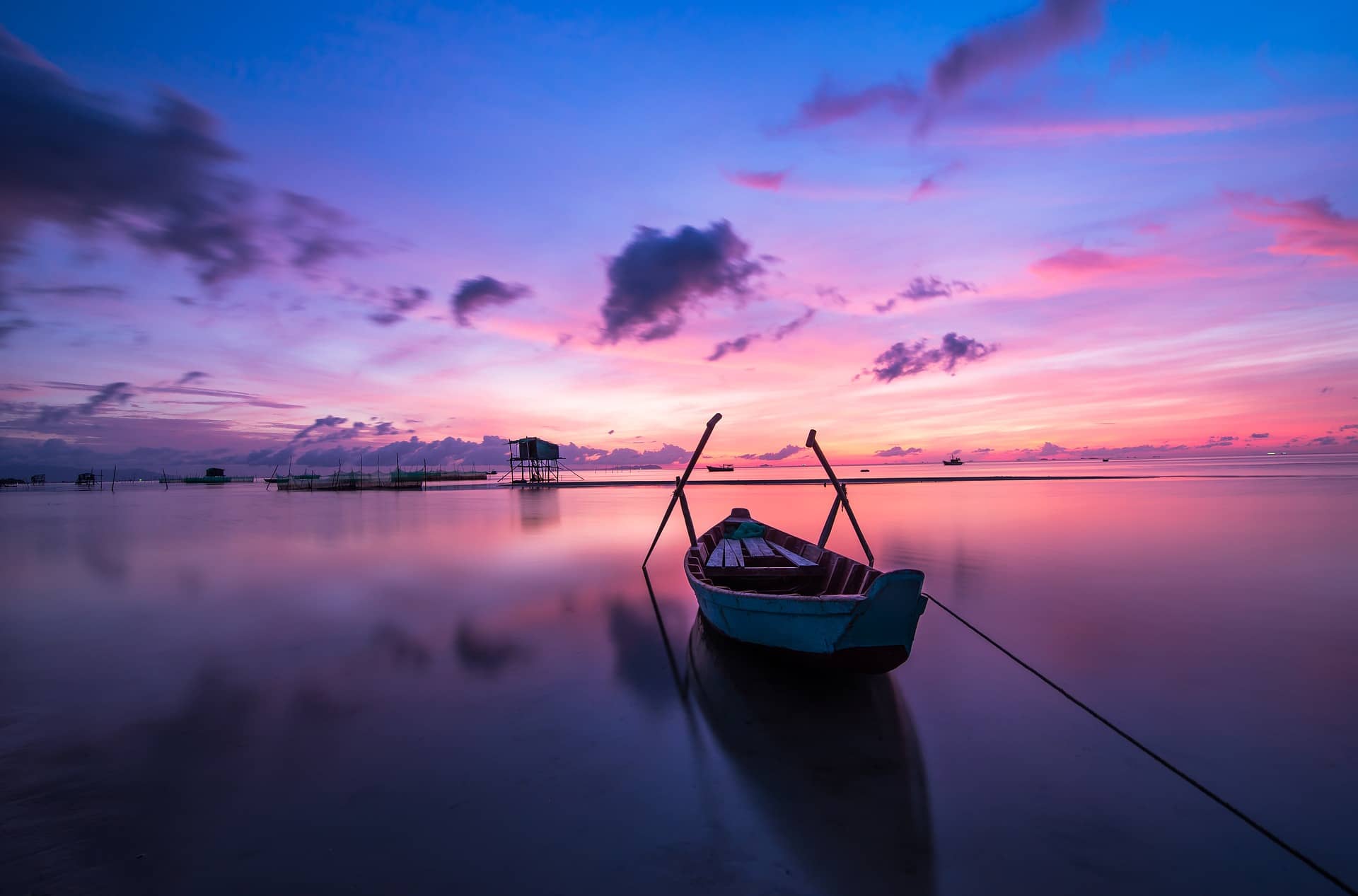 The picture is far more interesting than the above one. The subject in the picture is not the clouds, but this small boat. It not only fills in the gaps in the picture to make it more interesting, but also balances the picture and guides the eye.
Sometimes, a wide-angle lens is helpful, while other times, it will ruin your composition. Ensure you can fill the empty space before shooting at wide focal lengths.
The picture is vibrant and captivating – much more so than the first.
The focus of the shot here isn't the clouds but the boat; its inclusion fills in the gaps to make the image more interesting and creates a balance that guides the viewer's eye.
When considering which focal length to use, take into account how much of the scene you wish to capture – a wide-angle lens will provide a lot of coverage if you want to get something interesting into the frame!
Approaching the Subject Too Closely
24mm lenses are great for environmental portraits and can help tell a story about your subject.
You can capture more of the surroundings with them, adding elements that may reflect your subject's interests, personality, or social status.
However, be careful – getting too close to your subject with a 24mm lens will distort the proportions, making their head appear larger than usual and their nose overly long.
Although particular looks may work for some people, they often don't flatter them.
It's important to use them wisely and know when the situation calls for it.
For example, keep your subject in the middle of the frame to get lifelike proportions and find a distance at which their proportions will be retained without deformation.
You can also experiment with different camera angles, such as slightly tilting to get the right angle. This can create some interesting effects, like stretching your subject's legs. Have fun experimenting!
With wide lenses, don't worry about ugly deformation! Instead, experiment and explore to find new and interesting compositions. Keep your subjects' faces in focus, and you'll be sure to have great shots!
Final Words
With a 24mm lens at your disposal, you can produce stunningly detailed photos with a wider angle of view. Its versatility makes it a great addition to any photographer's arsenal.
Remember to practice and explore the different angles and techniques available to you. With time, you will master its use and be able to create stunning images that exceed your expectations!
Meet the Author
Wei Mao